Judy Bio
Connie Champagne's dazzling performance as Judy Garland hosting a 1959 TV special makes this show a true holiday treat."
Hollywood Reporter (read full review)
The overwhelming joy is Connie Champagne as Judy Garland, so honest and vocally stunning that it's easy to forget that the whole evening is as make believe as Santa Claus himself.
LA.COM
Hats off to Connie Champagne, she celebrates Judy Garland like no other. She'll send you Over The Rainbow with a smile on your face!
Jan Wahl, KRON-TV & KCBS
Ms. Champagne's Judy Garland is a masterpiece of subtlety and homage.
New York Times (read full review)
iMAGINE Judy Garland: An Evening With Connie Champagne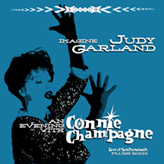 Produced by Harry Lit/Castrobear Presents
Directed by F. Allen Sawyer
Musical Direction by Joe Collins & Billy Philadelphia
Piano, Billy Philadelphia
Bass, Daniel Andrews
Connie returns to San Francisco for a repeat of her hit show IMAGINE Judy Garland: An Evening With Connie Champagne at San Francisco's premiere cabaret venue, The Plush Room. This encore presentation will run during Gay Pride Week. Let us not forget that the Stonewall Riots were triggered by police targeting Gays on the wrong day (Garland's Funeral) which began the start of the Gay Liberation movement.
Under the direction of F. Allen Sawyer (Lavender Locker Room) with Musical Direction by Joe Collins & Billy Philadelphia, this show takes Judy in a decidedly post-60's direction. Judy and company have assembled an eclectic repertoire of songs Miss Garland never recorded. Among these jewels: the haunting would-be classic There Is No Music, written by Gershwin especially for Garland in the picture Barclays of Broadway but scrapped after Garland was fired, William Finn's I Hate Republicans, a biting satire particularly relevant in today's political climate, and tunes from composers such as Kander & Ebb and even Freddy Mercury!
"Over the years people have requested songs they'd like to have heard Miss Garland perform. We've taken a lot of their suggestions, and, of course, added a few of our own!" Champagne explains.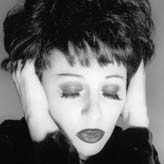 Champagne is definitely not an impersonator; as actress and a singer she has, however, an uncanny way with the character Judy Garland. Quite simply, Connie has a unique gift to bring the Garland character and voice to life like no other, and although Judy is gone, Connie is here to share that gift.
Winner—LA's 2003 Ovation Award for Lead Actress In A Musical for Judy's Scary Little Christmas. The show was such a hit last year, it was revived with it's original cast and directed once again by the amazing Kay Cole, musical direction by Joe Patrick Ward. JSLC was moved to the Court Theater in West Hollywood and played to sold-out houses all through December. Visit www.judyschristmas.com for reviews.
Winner—Dean Goodman Award for Oustanding Cabaret show for iMAGINE Judy Garland: An Evening With Connie Champagne. The CD of the show, recorded live at the Plush Room, is available for purchase.
Jan Wahl put it best, "Connie celebrates Judy Garland like no other."
IMAGINE Judy Garland: An Evening With Connie Champagne promises to take die-hard Garland fans and the uninitiated alike on a new journey into uncharted territory, giving a new spin on one of the classic sounds of our time. This show is not to be missed.
Connie Champagne has been a favorite of Bay Area audiences for some time. Appearing in cult classics such as Neely O'Hara in the twice-held-over production of Phillip R. Ford's Dolls and in regional theater productions at Theater On The Square, Magic Theater, ACT, San Jose Repertory Theater, and many others, Champagne has honed her craft and taken it on the road to Los Angeles, New York City, and all manner of places in between.
On recordings and stages, she has sung with a variety of artists such as the New Morty Show, Royal Crown Revue, Romeo Void (with Deborah Iyall). Her solo effort La Strada garnered critical praise, if not commercial. The Detroit Free Press, San Francisco Chronicle and BAM Magazine and others praised the CD-- Robin Eisgrau of NYC's The Paper magazine listed Champagne among her top ten faves.
IMAGINE Judy Garland LIVE from The Plush Room is available on Castrobear Presents CDs at Medium Rare Records, 2310 Market Street, and at The Music Store, 66 West Portal Avenue, San Francisco.
CD's available exclusely at Medium Rare Records 2310 Market Street (near the Castro) and The MUSIC Store 66 West Portal Ave (2 blocks from the tunnel entrance).
Through mail order, send $20 + $2.00 (S+H) to:

Imagine Judy CD
c/o Castrobear Presents*
584 Castro Street #374
SF., CA. 94114 * Make check's or Money orders payable to Castrobear Presents.